Disney Fans, Nuts & Maniacs:
WHATSITS GALORE'S DISNEY PAGES
are for you!

Oo-de-lally! Discover your E-Ticket to Disney trivia and glitches, heroes and villains, collectibles, movies, and so much more! If you love all things Disney, you have a kindred spirit in Whatsits Galore. So get your mouse ears on and get set to be our guest.

All Disney characters & images © Disney and are used for fan purposes only
All other content © 2001-2023 Whatsits Galore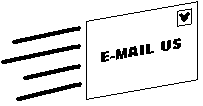 OTHER LINKS:
Testimonials
So You Wanna Be a Collector...
Disney Roleplaying Site
Dragonmaster Game Variants
Star Trek Poster Gallery
The Kolchak Survival Guide
Six Flavors of Quark
Brisco County, Jr. & The Orb
The Incredible Jack McGee
The Spooks of Scooby-Doo
Greatest American Hero Fed-Speak
Panini Stickers
Life With Purpose
Site Map
Home Base