Bert from Mary Poppins
Forget the ice cream suit with the wonderful straw boater. If you want to be Bert, just find a dark jacket and pants, dark shirt, and newsboy cap. They don't even have to be clean for your chimney sweep costume. A dark bandana tied around your neck is a must, and a long-handled brush or broom will make a great prop. Remember to blacken your face, and you're ready to step in time.


Cinderella
I know what you're thinking: how can I possibly make that elaborate ballgown easily and cheaply? Don't think "gown", think "rags". Remember the scene in which the mean stepsisters rip Cinderella's dress to shreds? It will be easy to make a replica of that tattered frock. Wear a frayed piece of pink material over a plain white skirt and another piece as a one-shouldered top for a "poor Cinderelly" look. As an alternative, you can take an old pink dress and demolish it for the same effect.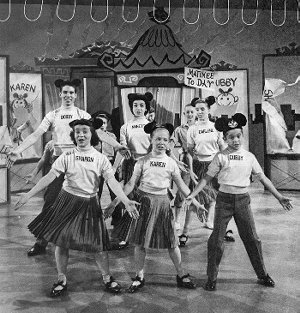 Mouseketeer from The Mickey Mouse Club
Male or female, you can be your favorite Mousketeer by simply adding a name to the front of your shirt. Top it off with Mickey Mouse ears (if you don't have them you can probably borrow them) and you're all set. Even if your skirt/pants and shoes aren't quite right, it'll still work just fine. And, best of all, since the show was in black and white, you can get away with almost any color you like.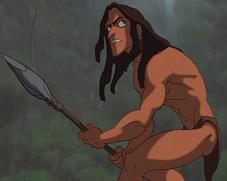 Tarzan
If you've got the guts, go with this costume. All you need is a plain piece of brown fabric for a loincloth. Just remember to stay out of drafts.


Jane from Tarzan

What would Tarzan be without Jane? Choose the cami and sarong combination she wears when Tarzan takes her to see the lorikeets in the treetops. You don't even need shoes or a fancy 'do; just a tank top and a wrap skirt.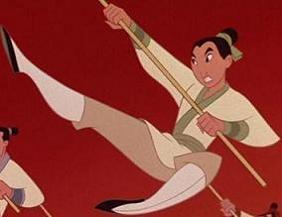 Mulan
This costume's not as complicated as it appears at first glance. Try a pair of green sweatpants pushed up to the knee with white knee socks, along with black flats or ballet-style slippers. Use a green bathrobe, cardigan, or even oversized oxford shirt, belt it with a sash, and you have Mulan ready for her soldier training. Don't forget to tie your hair back in a masculine bun.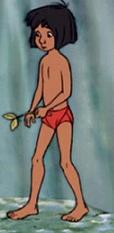 Mowgli from The Jungle Book

See Tarzan.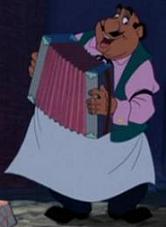 Tony from Lady and the Tramp
Mama Mia! What could be simpler than wearing an apron over a shirt, with an open vest and string tie? That, and a fake (or real) mustache will transform you into everybody's favorite singing restauranteur. Add the finishing touches: dark bands around the upper arm and, if you can lay your hands on one, an accordian.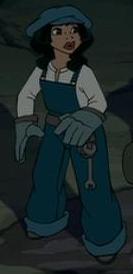 Audrey from Atlantis: the Lost Empire
All that you wannabe master mechanics need is a pair of overalls, oversized work gloves, and a floppy cap. Either a long or short sleeved shirt is fine (she wears both in the film), but don't forget the tools for added authenticity.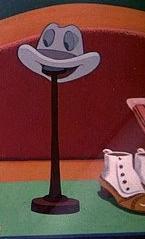 Johnnie Fedora from Make Mine Music
Get yourself a used hat from a thrift store. Cut out two eyes from felt or paper. Velcro them to the front of the hat. And, voila! You are wearing a Disney character!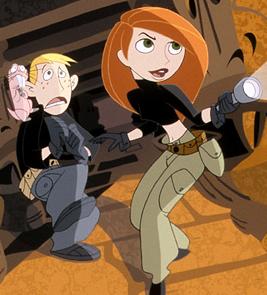 Kim Possible and Ron Stoppable from Kim Possible
Male or female, you can do anything with only khaki cargo pants, a black shirt, and gloves. There are many toys that, if you can find them, will make excellent props. Check yard sales or your kid's toy box for a Rufus beanbag plush or a McDonald's Happy Meal Kimmunicator.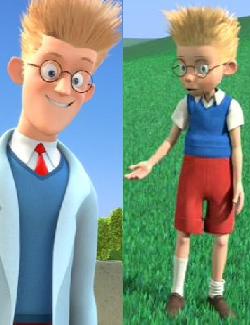 Lewis/Cornelius Robinson from Meet the Robinsons
At either age, brainy orphan Lewis or his future-self Cornelius is an easy costume. First, mousse your hair straight up. Plastic glasses are available in any costume shop; Harry Potter specs will do nicely. As a kid, you'll need shorts, a sleeveless sweater vest over a plain white shirt, and white socks (one drooping around the ankle). For the adult version, a white labcoat over a shirt, a vest and a tie shouldn't be too difficult to find.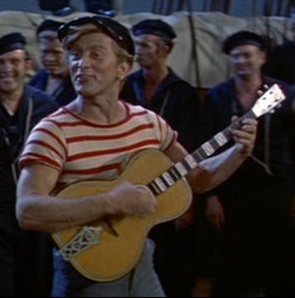 Ned Land from 20,000 Leagues Under the Sea
It might take a little work to secure this costume, but it will be worth it. Scour the thrift and second-hand stores in your area, pester your friends and relations, but get yourself a red-and-white striped tee half a size too small. A Greek-style fisherman's cap shouldn't be too hard to find. Plain blue jeans to top it off, and you're ready. Unless, of course, you want to add a guitar. But, be warned! People will ask you to sing about Mermaid Minnie.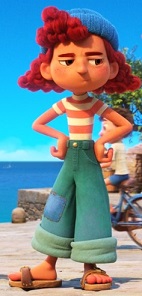 Giulia from Luca
Giulia's look is a lot like a female Ned Land (see above): same red-and-white striped tee, same jeans (only with a patch and the cuffs rolled up, 50's-style). You may already have flip-flops or sandals and a knit beanie you can use. If you desire a curly red wig for added authenticity, any decent costume store should have one.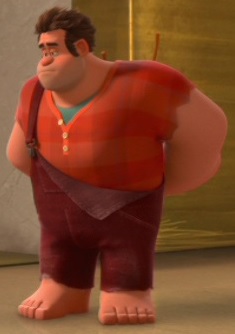 Wreck-It Ralph from Wreck-It Ralph
If you are a big guy, this costume will be particularly effective. Ordinary brown overalls with one strap undone, an orange plaid shirt with the sleeves ripped off, and a little mousse to make your hair stick out are all you'll need. Practice shouting, "I'm gonna wreck it!" in a gruff voice.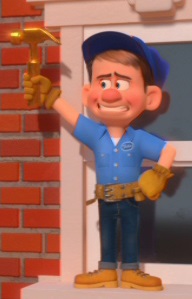 Fix-It Felix, Jr. from Wreck-It Ralph
Felix's look is a simple one: blue button-down shirt (short-sleeved), jeans with the cuffs turned up, tool belt, work gloves, and a blue baseball cap. Take any old hammer and spray-paint it gold, because Felix would never be without it, and then pose.