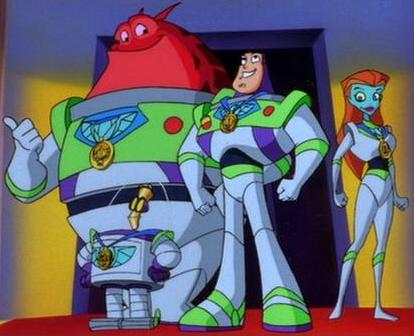 Buzz Lightyear's
SPACE RANGER COUTURE
Disney Chic by Whatsits Galore

To infinity...and beyond! That is the battle cry of Buzz Lightyear, Space Ranger, defender of the Gamma Quadrant and sworn foe of the Evil Emperor Zurg. If you've followed the adventures of the galaxy's greatest hero in the animated series Buzz Lightyear of Star Command, then you've seen Buzz in a hot tub, in a hospital gown, in his bathrobe, and even in his underwear! But you've never seen him without his distinctive purple hood. Which begs the question: what does Buzz's hair look like?
We can safely assume it is black, like that of his negative counterpart Evil Buzz, but what style does our Space Ranger sport? Could it be one of these?
Interesting as these choices are, we think Buzz's real hairstyle must be: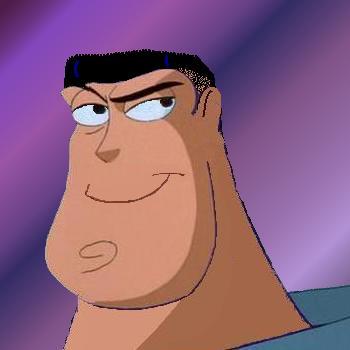 The Buzz Cut
All Disney characters & images © Disney and are used for fan purposes only
All other content © 2012-2020 Whatsits Galore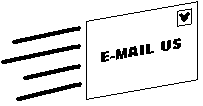 Disney Links:
Sign Our Guestbook
Prep & Landing
Coco: The Rivera Family Tree
Definitive Princess List
Disneyana For Sale
Testimonials
Separated at Birth
Very Good Advice
So You Wanna Be a Collector
The Perfect Collectible
Disney Glitches
The Disney Point
Easy Disney Costumes
For Disney Girls Only
The Not Your Average Disney Trivia Quiz
Mouse Tales
Animated Feature Timeline
Mouse History 101
It's Tough to Be a Bird
Disney's House of Mouse
Disney Villains
Guilty! Disney's Other Villains
Henchmen, Minions, & Thugs: Disney's Second Class Villains
Disney Home Page
Disney Roleplaying Site
Other Links:
The Wacky Races
Get Smart Catchphrases
A Christmas Quiz
Greatest American Hero Fed-Speak
The Ballad of Gilligan's Trial
The Kolchak Survival Guide
World's Longest Yard Sale
Six Flavors of Quark
Skits & Bits
TV Glitches
The Spooks of Scooby-Doo
Star Trek Poster Gallery
Tarzan's Dictionary
Brisco County, Jr. & The Orb
Sherlock Holmes
Dragonmaster Game Variants
Your Life's Purpose
Panini Stickers
Site Map
Home Base
Powered by WebRing.