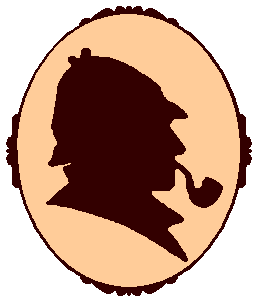 Elementary, Watson

HOLMESIAN TOP 10 LISTS
by Whatsits Galore

To be absolutely fair, we got this idea from another website that was filled with Top Ten lists of a holmesian nature. We tried to add our humble offerings, but they had stopped accepting new entries. These lists were too good to waste, however, so Whatsits Galore presents them here.
Lest you should wonder, we even went back to get the name of the site, intending to post a proper credit, but, alas, it is no more.
MORE HOLMES:

---

LESS IS MORE

---

COMICS

---

THE GEEK INTERPRETER

---

A CHRISTMAS CAROL

---

SHERLOCK HOLMES SHOPPE

---

BASIL OF BAKER STREET

---

HOLMES PAGE

---

10 Things You Should Never Ask Sherlock Holmes

"How's the weather up there?"
"What do you think of Matt Frewer?"
"Ever been to Norbury?"
"So, who's the smartest man in London?"
"Would you like to buy a ticket to the policeman's ball?"
"Who do you like in the Oxford/Cambridge match?"
"Did I tell you I sold your violin on Ebay?"
"Why have you never been knighted?"
"Have you ever met Sigmund Freud?"
"Sherlock who?"

10 Canonical Ways to Off Your Enemy

Sic a vicious dog on him
A Webley
Poisoned darts
Snakebite
Sink him in a quicksand bog
A deadly Chinese fever
Leave the gas jet on
A charcoal brazier
Jellyfish
Toss him over a waterfall

10 Holmesian-Inspired Gifts for Every Occasion

A gold soveriegn
An unframed portrait of "Chinese" Gordon
A beryl coronet
A goose
A dress of dove-grey silk with ostrich feather trim
A subscription to The Lancet
Chinese porcelain
An emerald tie-pin
A Collection of Clark Russell sea stories
A Stradiverius

10 Holmesian-Inspired Gifts NOT to Give

Box of severed ears
A single dumb-bell
Tickets to the Gasfitter's Ball
A coal scuttle full of cigars
The Dynamics of an Asteroid
Lemur serum
A Chinese tattoo
Tickets for the Nora Creina
An electric blue dress
A brand new bell pull

10 Things Sherlock Holmes' Mother Might Say
If She Came to Visit

"This place is a mess! What do you pay that housekeeper for?"
"I threw it away. What good is one slipper?"
"I'm sure Mycroft could get you a nice, safe government job."
"What do you mean, she's an actress?"
"When am I going to see some grandchildren?"
"You never wear the dressing gown I bought you."
"If you'd only applied yourself, you could've been a doctor, too."
"You look so thin and pale. Are you eating properly?"
"Nice young ladies don't walk around London dressed in male costume."
"Three whole years and you couldn't write?"
All characters & images © Conan Doyle estate and are used for fan purposes only
All other content © 2009-2022 Whatsits Galore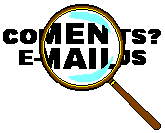 E-mail Us
OTHER LINKS:
Compliments of the Season
World's Longest Yard Sale
Get Smart Catchphrases
TV Glitches
Dragonmaster Game Variants
Star Trek Poster Gallery
The Ballad of Gilligan's Trial
Dwarf Identification Guide
Brisco County, Jr. & The Orb
The Kolchak Survival Guide
Six Flavors of Quark
The Spooks of Scooby-Doo
Greatest American Hero Fed-Speak
Disney Pages
The Wacky Races
Tarzan's Dictionary
Collectibles For Sale
Testimonials
Skits & Bits
The Incredible Jack McGee
We Have Much To Hope
Panini Stickers
Site Map
Home Base