WASTING TIME ONLINE
by Whatsits Galore
Do you need more ways to waste time online? Who doesn't? Whatsits Galore has collected some of the most entertainingly useless websites for your frivolous pleasure. Click on the links below and prepare for hours of the best time-wasting fun you'll ever have!
MORE FROM WHATSITS GALORE:

---

TV GLITCHES

---

DISNEY TRIVIA

---

STAR TREK

---

PANINI STICKERS

---

THE WACKY RACES

---

TARZAN'S DICTIONARY

---

CHRISTMAS QUIZ

---

SHERLOCK HOLMES

---

BRISCO COUNTY, JR

---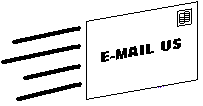 All content © 2012-2022 Whatsits Galore
Other Whatsits Galore Links:
Dragonmaster Game Variants
The Spooks of Scooby-Doo
The Ballad of Gilligan's Trial
The Incredible Jack McGee
Dwarf Identification Guide
Disney!
Six Flavors of Quark
The Kolchak Survival Guide
Get Smart Catchphrases
Greatest American Hero Fed-Speak
Sherlock Holmes
What's Your Purpose In Life?
Site Map
There's No Place Like Home!