MORE TRIVIA:
---
PAST QUIZZES
---
MORE PAST QUIZZES
---
EVEN MORE PAST QUIZZES
---
STILL MORE PAST QUIZZES
---
THIS MONTH'S QUIZ
---

Name 2 movies with wise-cracking genies named Genie.
Name 2 witches who transform themselves into fire-breathing dragons.
Name 2 characters who decide to search a derelict sub.
Name 2 characters who lure a giant fish into getting its head caught.
Name 3 characters who get stuck inside a tuba.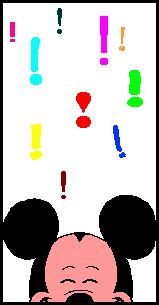 ANSWERS:
Aladdin & DuckTales: Treasure of the Lost Lamp
Maleficent & Madam Mim
Marlin & Lt. Robin Crusoe
Wart & Ariel
Lawrence, Lefou & Donald in Donald's Ostrich

Where will you get to if you follow these directions?
Over the seven jeweled hills, beyond the seventh fall
Three blocks down, two blocks over
South by southwest, heading 2100
Start at Pegleg Point. Forty paces west to Blindman's Bluff. Hop, skip and a jump across Crocodile Creek.
Follow the narrow passage for another league. There you will find the fifth marker.
Stay on the same road 'til you hit the county road. Turn left along that road 'til you pass Howard Babcock's place. Then you'll see a coupla' four Holsteins on the south side of a red barn. Now just past the red barn, you'll hit a chuck hole. Turn left right there, down that road along the fence line.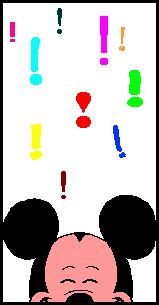 ANSWERS:
The dwarfs' cottage
Morningside Orphanage
Leaving Motressor spaceport
Hangman's Tree
Atlantis
The Grand Imperial Hotel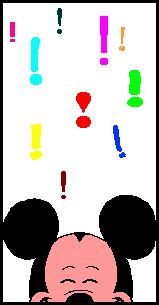 ANSWERS:
Name 2 girls who save their boyfriends from drowning.
Name 2 characters who rub the dirt off a window to peek inside.
Name 2 films that end with vignettes showing a year in the life of the main characters.
Name 2 characters who give a hat to their superior officer to indicate the owner's death.
Name 2 characters who open a door inside a door inside a door...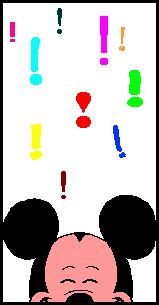 ANSWERS:
Ariel & Esmeralda
Snow White and Sgt. Tibbs
Lilo and Stitch & Bolt
Scroop & Chien Po
Alice and Mickey Mouse in The Mad Doctor

Identify the character from his baby picture.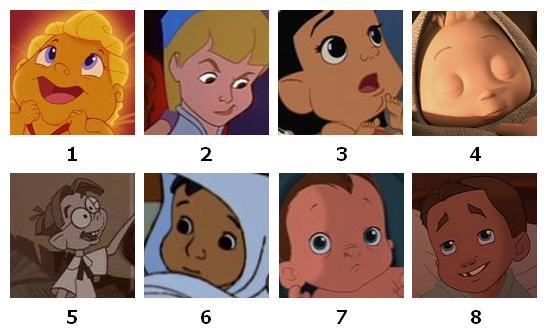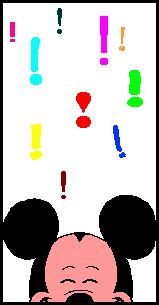 ANSWERS:
Hercules
Prince Phillip
Kuzco
Lewis, later Cornelius Robinson
Milo
Mowgli
Tarzan
Jim Hawkins

Name 2 princesses for whom a kingdom-wide search is instituted.
Name 2 characters who deliver the mail by air.
Name 2 villains who watch flaming female dancers.
Name 2 cartoons in which Donald tries to kill a penguin.
Name 2 characters who do an alligator call.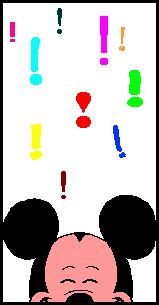 ANSWERS:
Cinderella & Ariel
Pedro in Saludos Amigos & Mickey in The Mail Pilot
Chernabog & Frollo
Polar Trappers & Donald's Penguin
Mr. Biddle from & Skaggs from Treasure of Matecumbe

Below are the first spoken words; name the movie.
It's for you, Darling. Merry Christmas.
You know, Daddy, this is my best birthday ever!
Pretty, huh? I'll bet a lotta you folks don't believe that.
In a far away land, long ago, lived a king and his fair queen.
Aaauugh! Will you take a look at that? Pretty pathetic, huh?
Listen...they're beautiful, no?
We're under attack! Light the signal!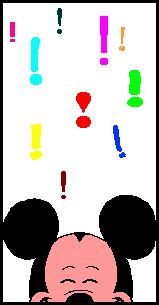 ANSWERS:
Lady and the Tramp
The Great Mouse Detective
Pinocchio
Sleeping Beauty
The Emperor's New Groove
The Hunchback of Notre Dame
Mulan

Name 2 characters who think they have the powers seen on their TV shows.
Name 2 giants who stir the sea with a trident.
Name 2 characters who, after being freed from a cramped space, do a duck walk.
Name 2 cartoons in which a mouse peels potatoes on board a ship.
Name 3 characters who are confused by a handshake.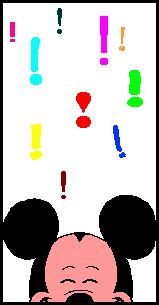 ANSWERS:
Buzz & Bolt
Ursula & Neptune in King Neptune
Thorndyke in The Love Bug & Dexter Reilly in The Computer Wore Tennis Shoes
Steamboat Willie & Alice the Whaler
Pocahontas, Deja Thoris, & Mr. Tumnus

Name the Disney song that contains these non-English lyrics.
Awikiwiki, mai lohilohi
Jalisco no te rajes, Me sale del alma, Gritar con color
Tes montagnes, ta ville et tes mers, Sont tout ce que j'aime
Hega hega ya-hi-ye hega, Ya-hi-ye ne-he hega
Mea maxima culpa, Mea culpa, Mea culpa
Une vie à me cacher et puis libre enfin
Pero gue tenga mucho mengó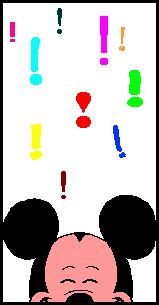 ANSWERS:
Hawaiian Roller Coaster Ride from Lilo and Stitch
The Three Caballeros
Canada...You're a Lifetime Journey from Epcot's World Showcase
Steady as the Beating Drum from Pocahontas
Hellfire from The Hunchback of Notre Dame
Le Festin from Ratatouille
Buscando Guayaba from Oliver and Company

Name 2 characters who save a baby animal from falling off the back of a truck.
Name 2 characters who accidentally break an decorative ornament while waiting in expensive surroundings.
Name 2 moms who think they're always right.
Name 2 animals who watch a human baby in its cradle.
Name 2 cartoons featuring dancing plates.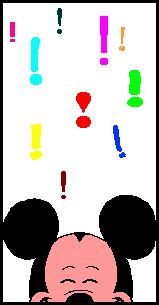 ANSWERS:
Pongo & O'Malley
Will Turner & Mia Thermopolis
Franny Robinson & Chicha
Kala & Lady
Beauty and the Beast & The China Shop

Which characters are most closely associated with these mountains?
Bald Mountain
Forbidden Mountain
Chickapin Hill
Pike's Peak
Mount Aconcagua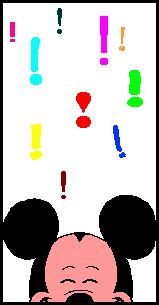 ANSWERS:
Chernabog
Maleficent
Brer Fox
Paul Bunyan
Pedro from Saludos Amigos

Name 2 girls who are given gowns made by magic.
Name 2 villain pets who align with the good guys in the DTV sequel.
Name 2 films in which a dragonfly provides the propulsion for a leaf boat.
Name 2 shorts in which Mickey is awakened by Pluto's licking.
Name 3 women who get a frog down their dress.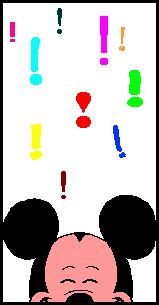 ANSWERS:
Cinderella & Aurora
Percy & Iago
The Rescuers & Summer
Mickey's Nightmare & Mickey's Gala Premiere
Charlotte, Orwen & Mrs. Hadley in No Deposit, No Return

According to the song lyric, which character...
..."ought to be locked up and never released"?
...is "not tied down to anyone"?
..."found his aroma lacked a certain appeal"?
..."thought the dead were dull and uncouth"?
...is "the world's most famous crook"?
...is "very different from the rest of us"?
...is "a sunset in a frame"?
...is "an enigma and a mystery?"
...is "not a great financial whiz"?
...is "never known to be a quitter"?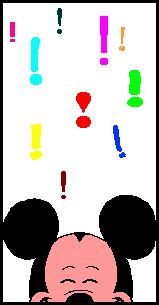 ANSWERS:
Cruella DeVil
Pinocchio
Pumbaa
Hades
Capt. Hook
Belle
Cinderella
Kuzco
Mary from Babes In Toyland
Pecos Bill

In which month do each of the following incidents occur?
Name 2 princesses who kiss the king and make him blush.
Name 2 characters who have their initials inscribed on their hubcaps.
Name 2 characters who spit feathers.
Name 2 films in which the musicians have to play on broken instruments.
Name 3 films that change their aspect ratio.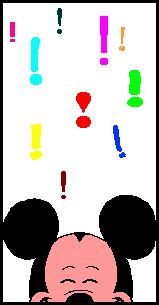 ANSWERS:
Cinderella & Aurora
Cruella & Pete in Mickey's Service Station
Mrs. Judson & Hugo
The Aristocats & Symphony Hour
Enchanted, Brother Bear & The Incredibles

In which month do each of the following incidents occur?
Perdita's puppies are born
Merlin creates his 'wizard blizzard'
The walrus lures the oysters to their doom
Bernard and Bianca watch Penny's TV interview
Jim Dear and Darling's baby is born
J. Thaddeus Toad trades Toad Hall for a motorcar
Patch o' Heaven is sold to Alameda Slim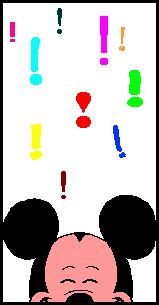 ANSWERS:
October
July
March
January
April
August
September

Name 2 animated TV series that end with a graduation episode.
Name 2 characters whose lives are saved when a friend interposes his body between the intended victim and a lethal weapon.
Name 2 birds who play with a yo-yo.
Name 2 films in which kittens are blown into the air by a hot air grate.
Name 3 characters who use an umbrella as a parachute.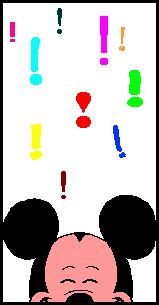 ANSWERS:
Kim Possible & The Emperor's New School
Tod & John Smith
The flamiingo from Fantasia/2000 & Chicken Little from the Silly Symphony of the same name
Oliver and Company & Three Orphan Kittens
Jiminy Cricket, Bernard, & John Darling

In which Disney movie are these songs heard?
The Lion Sleeps Tonight
Put On Your Sunday Clothes
Itsy Bitsy Teenie Weenie Yellow Polka Dot Bikini
That's Amore
Sunrise, Sunset
The Man on the Flying Trapeze
The Crawdad Song (You Get a Line, I'll Get a Pole)
Go Tell Aunt Rhody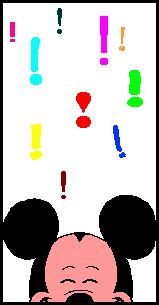 ANSWERS:
The Lion King
Wall*E
College Road Trip
Enchanted
The Lion King 1½
The Absent-Minded Professor
The Rescuers Down Under
Lt. Robin Crusoe, USN

Name 2 characters who collect human stuff.
Name 2 animals who ask a mom what she is going to name the baby.
Name 2 characters who have trouble making up a boy's name on the spur of the moment.
Name 2 cartoons with ice-skating deer.
Name 7 cartoons narrated by Sterling Holloway.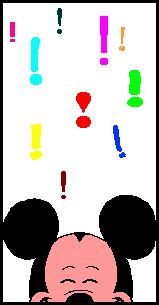 ANSWERS:
Ariel & Wall*E
Thumper & Terk
Mulan & Bowler Hat Guy
Bambi & Winter
Peter and the Wolf, The Pelican and the Snipe, The Little House, Goliath II, Lambert, the Sheepish Lion, Susie, the Little Blue Coupe & The Cold-Blooded Penguin

Name the characters behind these disguises.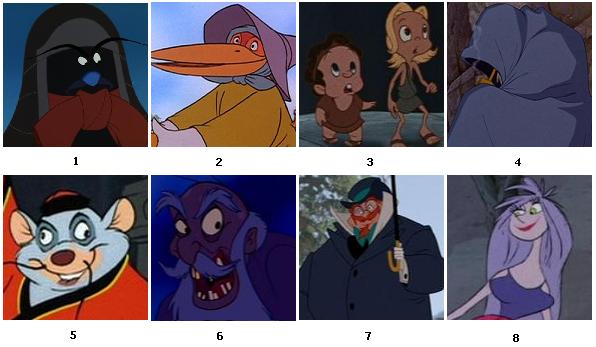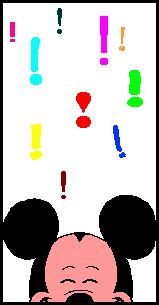 ANSWERS:
Cri-Kee
Robin Hood
Pain & Panic
Esmeralda & Djali
Basil
Jafar
Alameda Slim
Madam Mim

Name 2 characters who wear ladies' underwear on their heads.
Name 2 princesses who wear crowns created by magic.
Name 2 horses who kick the villains in the keister.
Name 2 cartoons in which snakes are tricked into tying themselves in knots.
Name 3 films in which Dumbo makes a cameo appearance.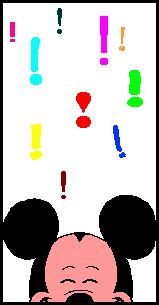 ANSWERS:
Stitch & Wall*E
Jasmine & Aurora
The Captain in 101 Dalmatians & Frou-Frou
Tarzan & Birds in Springtime
Who Framed Roger Rabbit, The Great Mouse Detective & Lilo and Stitch

Give the title of the film in which Roddy McDowall played each of the following characters
Griffin
Gregory Benson
Mr. Soil
V.I.N.Cent
Mr. Jelk
Mr. Stallwood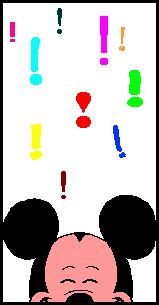 ANSWERS:
The Adventures of Bullwhip Griffin
That Darn Cat!
A Bug's Life
The Black Hole
Bedknobs and Broomsticks
The Cat From Outer Space

Name 2 heroes who cause an avalanche to beat the bad guys.
Name 2 animals who stop a vehicle by making faces in the windshield.
Name 2 songs with lyrics about lazy daisies.
Name 2 films in which crows dance on a scarecrow.
Name 4 films featuring walking toy soldiers.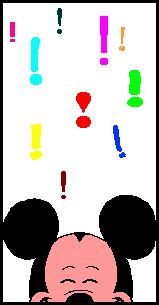 ANSWERS:
Mulan & Hercules
Dodger & O'Malley
Patch o' Heaven and Golden Afternoon
Mickey and the Beanstalk & Autumn
Mary Poppins, Babes in Toyland, Toy Story & Toy Story 2

Name the movie that was made from these books:
Undercover Cat
The Children of Captain Grant
The Hound of Florence
Mother Carey's Chickens
God and My Country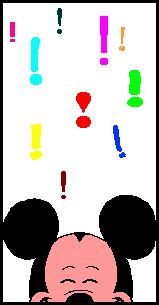 ANSWERS:
That Darn Cat
In Search of the Castaways
The Shaggy Dog
Summer Magic
Follow Me, Boys

Name 2 girls who cry in the forest while surrounded by curious animals.
Name 2 films with a kitchen full of rats.
Name 2 characters who are described as "cranky."
Name 2 films featuring dancing penguins.
Name 4 sequences in the Fantsia movies beginning with a depiction of dawn.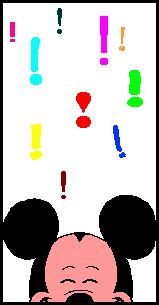 ANSWERS:
Snow White & Alice
Ratatouille & Enchanted
Prince John & Chief
Mary Poppins & Arctic Antics
Carnival of the Animals, Rhapsody in Blue, The Pastoral Symphony, Dance of the Hours (Beethoven's Symphony #5 may be another, but it's difficult to tell)

Whose are these mottoes, philosophies and slogans?
Hakuna matata
We scare because we care
If at first you don't succeed, try, try again
A fair fare from here to there
Do your best & leave the rest to fortuosity
If you don't have a sense of humor, you're better off dead
Through storm, and rain, and dark of night, never fail to do what's right
Talk is cheap
Your gray matter matters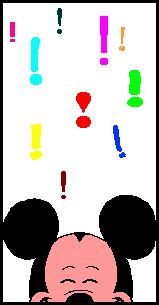 ANSWERS:
Timon & Pumbaa
Monsters Inc.
Albatross Airlines
Albatross Airlines (under new management)
John Lawless
Roger Rabbit
The Rescue Aid Society
Ebeneezer Scrooge
Doctor Frankenollie

Name 2 animals who are saved by falling into a thorn patch.
Name 2 cartoons in which Mickey hides on a giant's table.
Name 2 villainous sea captains who play the organ.
Name 2 characters who play a horn while lying on a pillow.
Name 5 cartoons that feature a spitting grasshopper.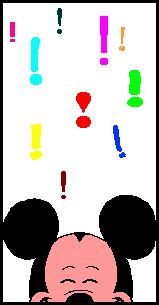 ANSWERS:
Simba & Brer Rabbit.
Giantland and Mickey and the Beanstalk
Capt. Nemo & Davy Jones
Sleepy & Scat Cat
Goofy and Wilbur, Donald's Golf Game, Springtime, Birds in Springtime & Little Hiawatha

What is the favorite food of each of these characters?
Winnie the Pooh
Chip and Dale
Joanna
Monterey Jack
Ron Stoppable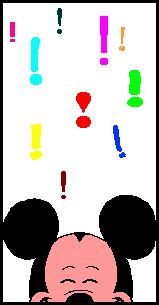 ANSWERS:
Honey
Nuts
Eggs
Cheese
Nacos

Name 2 films in which horses dress in women's clothes.
Name 2 shorts in which Mickey hangs on a giant's uvula.
Name 2 dads who step in at last minute to make their daughter's marriage possible.
Name 2 villains who claim to have a bad back.
Name 4 characters who warm their backsides at a fire or stove.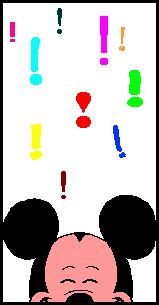 ANSWERS:
The Adventures of Ichabod and Mr. Toad & Saludos Amigos
Giantland & The Brave Little Tailor
Triton & the Sultan
Scar & Ratcliffe
Jiminy Cricket, Elliott, Pablo the Cold-Blooded Penguin, & Squeaks

Movie soundtracks include not only songs, but sections of the score as well. Which films feature these orchestral score sequences?
Three Brothers
100 Mile Dash
Fireflies
Tour of the Kingdom
Hiccups
This Land
Chicken Man
Lesson in Lies
The Rat Returns
At the Restaurant
Fightin' Irish: Strike Action
Spotted!
Rodeo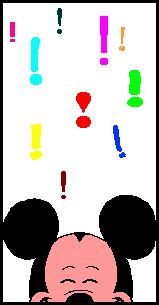 ANSWERS:
Brother Bear
The Incredibles
Atlantis: the Lost Empire
The Little Mermaid
Dumbo
The Lion King
Toy Story 2
Pinocchio
Lady and the Tramp
The Rescuers Down Under
Newsies
One Hundred and One Dalmatians
Hercules

Name 2 leaders who warn their group to stay away from the explorers who have just arrived.
Name 2 villains who put their victims in a sack inside a trunk.
Name 2 cartoons in which Mickey gets his head stuck in fishbowl.
Name 2 runaway girls startled by a fire-eater.
Name 3 characters who call a barrel home.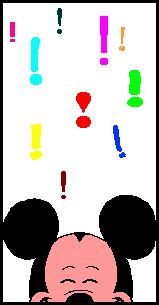 ANSWERS:
Kerchak & Powhatan
Edgar & Captain Pete in The Three Musketeers
Mickey Steps Out & The Birthday Party
Jasmine & Sonora Webster from Wild Hearts Can't be Broken
Chief, Copper & Jeb from Home on the Range

What character or group is most associated with the following books?
The Shepherd's Journal
The Great Book
The Grimorum Arcanorum
ANSWERS:
Milo Thatch
Zummi and the Gummi Bears
The Gargoyles

Name 2 characters who are told by their dads to stay away from humans.
Name 2 dragons who allow a kid to sit on their stomaches while eating.
Name 2 couples who go into the lake arguing and come out laughing.
Name 2 shorts in which Pete is a dogcatcher.
Name 3 characters who float in a clay pot.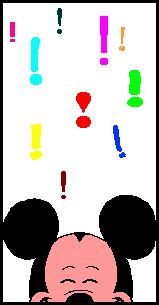 ANSWERS:
Ariel & Remy
Elliott & the Reluctant Dragon
Roger & Anita and Lem & Vida from Follow Me, Boys
The Mad Dog & The Worm Turns
Pooh, Piglet & Donald in Saludos Amigos

When animated characters are hit on the head, as Roger Rabbit could tell you, they see stars, literally. Occasionally, they see other things. Name the character who saw each of these objects spinning around their heads when they were bonked on the noggin.
Animals two by two
Sultans on flying carpets
Squirrels
Winged Goofys
Llamas
Dancing girls
Christmas bulbs
Flying cinder blocks
Stars color-coordinated to match their kerchiefs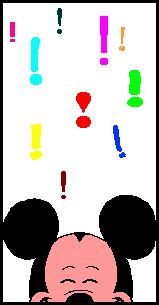 ANSWERS:
Donald inFantasia/2000
Iago
Kronk
Goofy in Clock Cleaners
Kuzco
Dr. Dawson
Lanny in Prep & Landing: Naughty vs. Nice
Axe from Beauty and the Beast: The Enchanted Christmas
The Willie Brothers

Name 2 films with elephants who dance ballet.
Name 2 boys who must scrub big pots.
Name 2 characters who look in a window at a lady singing while making pies.
Name 3 characters who play the old shell game with a living "pea".
Name 3 characters who fall in love with the first human female they ever see.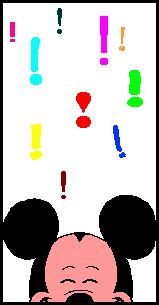 ANSWERS:
Dumbo & Fantasia
Jim Hawkins & Wart
Uncle Remus & the Hag
Sgt. Pete in The Old Army Game, Captain Cat in Three Blind Mouseketeers & Lucifer
Tarzan, Pecos Bill & Mowgli

Give the title of the film in which Kurt Russell played each of the following characters
Dexter Riley
Copper
Steve Stronghold/The Commander
Bart
Sidney Bower
Steven Post
Whitey
Ronnie Gardner
Ray Ferris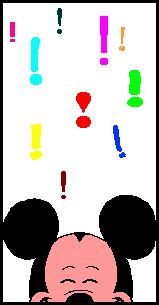 ANSWERS:
The Computer Wore Tennis Shoes, The Strongest Man in the World & Now You See Him, Now You Don't
The Fox and the Hound
Sky High
Superdad
The One and Only, Genuine, Original Family Band
The Barefoot Executive
Follow Me, Boys
The Horse in the Gray Flannel Suit
Charley and the Angel