MORE TRIVIA:
---
PAST QUIZZES
---
MORE PAST QUIZZES
---
EVEN MORE PAST QUIZZES
---
STILL MORE PAST QUIZZES
---
THIS MONTH'S QUIZ
---

Name 2 characters who are nearly washed down a storm drain.
Name 2 animal narrators who try to fool the audience into thinking they are humans.
Name 2 cartoons in which Donald complains about eating beans.
Name 2 pets who accidentally land in a garbage truck.
Name 3 characters who have been in a gator's mouth (or a croc's).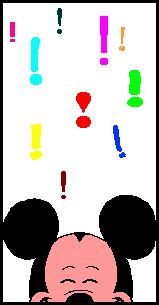 ANSWERS:
Oliver & Johnny Fedora
Pongo & Dr. Dawson
Polar Trappers & the Mickey and the Beanstalk segment of Fun and Fancy Free
Charlie the Million Dollar Duck & Chloe in The Ugly Dachshund
Capt. Hook, Bernard, & Raja from Goliath II

What is the significance of these numbers?
101
626
23-19
42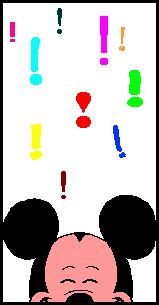 ANSWERS:
Number of dalmatians owned by the Radcliffs
Stitch's code number
Contamination on the Scare Floor
Buzz's spaceship in Buzz Lightyear of Star Command (also the secret of the universe)

Name 2 villains who turn into snakes.
Name 2 characters who must keep objects from falling through the cloud they sit on.
Name 2 films in which Fred MacMurray plays the saxophone.
Name 2 characters who drive wagons with anchors and sails instead of horses.
Name 3 characters who attack a flock of buzzards to save a dying animal.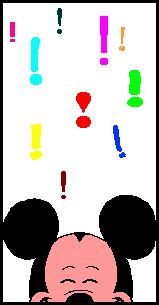 ANSWERS:
Jafar & Madam Mim
Mary Poppins & Mr. Stork
Son of Flubber & Follow Me, Boys
Windwagon Smith & Doc Terminus from Pete's Dragon
Timon, Pumbaa, & Pecos Bill

What kind of animals are these pets from live-action films?
Gus
Duster
Harry
Jake
Scratch
Raffles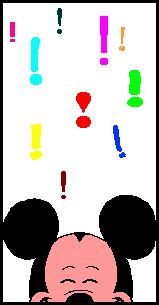 ANSWERS:
Mule in Gus
Skunk in No Deposit, No Return
Tiger in The World's Greatest Athlete
Cat in The Cat from Outer Space
Bear in The Bears and I
Chimp in The Barefoot Executive

Name 2 characters who are chased though an alley by three dogs.
Name 2 villains whose lairs are found among geysers.
Name 2 young elephants who get their ears pulled.
Name 2 girls who ask boys for help so they'll put their arms around them.
Name 3 fish found inside a helmet.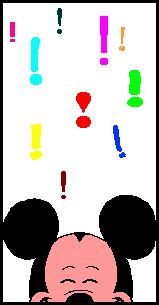 ANSWERS:
Oliver & Lady
Scar & Ursula
Dumbo & Goliath II
Julia Carey from Summer Magic & Roberta from The Swiss Family Robinson
Flounder, Merlin, & Fish Out of Water

What will these magic words do?
Tummern Ummup Summide Dummown
Fee fi fo fum
Treguna, Mekoides, Trecorum Satis Dee
Aquarius, aquaticus, aqualitis
Aloft Elevar
Esalalumbo, shimin dumbo
In canis corpore, transmuto
Kree kruh vergo gebba kalto kree
Beluga, sevruga, come winds of the Caspian Sea
Larynxes, glacydis, ad max laryngitis la voce to me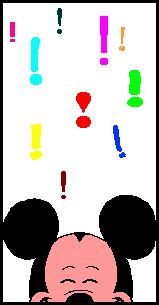 ANSWERS:
Turn victim upside-down
Allow user to change into anything
Give inanimate objects a life of their own
Turn subject into a fish
Levitation spell
Turn subject into an elephant
Turn user into a dog
Bring to sight one who is bound in limbo
Steal victim's voice

Name 2 dogs who stick their heads in a chicken coop.
Name 2 characters who find themselves in Willie the Giant's pocket.
Name 2 sailors who are chased by cannibals across the beach to a departing boat.
Name 2 films where the plot begins with a note in a bottle.
Name 3 characters who eat a dish.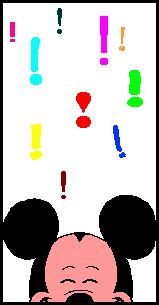 ANSWERS:
Tramp & Chief
Mickey Mouse & Scrooge
Capt. Jack Sparrow & Ned Land
The Rescuers & In Search of the Castaways
Phil, Windwagon Smith, & Donald Duck in Mickey and the Beanstalk

How many children do these characters want?
Gaston
Robin Hood
Maid Marian
Vixy
Li Shang
Mulan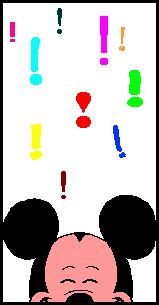 ANSWERS:
6 or 7
6
A dozen at least
6
As many as possible
Maybe 1 or 2

Name 2 characters who are magically transformed while floating and twirling.
Name 2 cats who push open a window and end up hanging from it.
Name 2 animals who try to jump over a log and get stuck half way across.
Name 2 shorts in which Donald Duck has trouble with a donkey.
Name 3 kids who sit on the roof when troubled.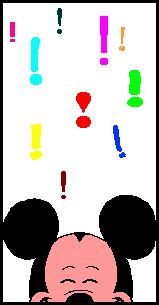 ANSWERS:
Beast & Kenai
Figaro & Sgt. Tibs
Bambi & Morris the Midget Moose
Donald's Gold Mine & The Village Smithy
Chicken Little, Jim Hawkins, & Will Stronghold in Sky High

Who has these license plates?
OFP 857
711
ALZTYBRN
DOBRMAN
A 113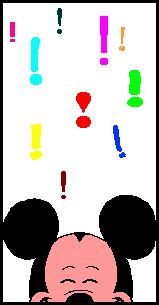 ANSWERS:
Herbie, the Love Bug
Susie, the Little Blue Coupe
Al from Toy Story 2
Sykes
Everybody in Lilo and Stitch

Name 2 films featuring flying whales.
Name 2 characters who are chased by playing cards.
Name 2 characters who drive a motorcycle down the subway steps.
Name 2 guys frustrated by their island followers' lack of discipline.
Name 4 bears who go over the falls.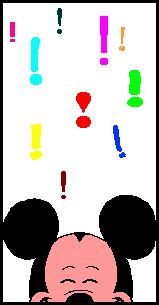 ANSWERS:
Fantasia/2000 & Treasure Planet
Alice & Mickey in Through the Mirror
Edgar & Fagin
Linc Costain in Castaway Cowboy & Lt. Robin Crusoe
Baloo, Bongo, Lumpjaw, & the bear from The Fox and the Hound

In which film will you find these taverns?
Blackbeard's Inn
The Benbow Inn
The Rat Trap
Le Pub
Red Lobster Inn
Clancy's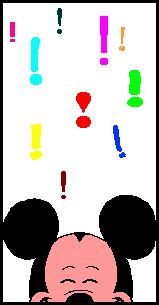 ANSWERS:
Blackbeard's Ghost
Treasure Planet
The Great Mouse Detective
Beauty and the Beast
Pinocchio
The Happiest Millionaire

Name 2 characters who are promised their freedom.
Name 2 characters who coyly close the drapes on their wooers.
Name 2 mute henchmen with overlong sleeves who take notes for their bosses.
Name 2 characters in whose homes mice have made a door out of the circular decoration on the baseboard.
Name 4 films that contain songs about digging.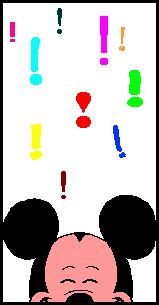 ANSWERS:
Genie & Megara
Snow White & Katrina Von Tassel
Gideon & Rodrigo in Babes In Toyland
Lady Tremaine & Sherlock Holmes
Pocahontas, The Lion King 1½, The Princess and the Frog, & Holes

Which actor narrates these films?
The Many Adventures of Winnie the Pooh
Beauty and the Beast
Hercules
The Black Cauldron
Cinderella
The Sword in the Stone
Peter Pan
Sleeping Beauty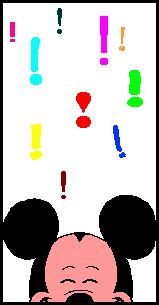 ANSWERS:
Sebastian Cabot
David Ogden Stiers
Charlton Heston
John Huston
Betty Lou Gerson
Sebastian Cabot
Tom Conway
Marvin Miller

Name 2 animated characters who read someone's palm.
Name 2 characters who say, "This is no time to panic."
Name 2 villains who climb on kids' blocks.
Name 2 lackeys who hear the echo of their boss's shouted phrase, "understand?"
Name 3 groups who live in secret under a lake.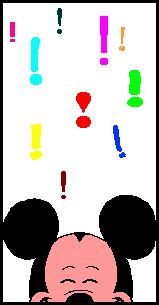 ANSWERS:
Esmeralda & Mickey in Fun and Fancy Free
Aladdin & Buzz Lightyear
Fidget & Barnaby
Mr. Smee & the Grand Duke
The Lost Boys, the Fair Folk, & the Gummi Bears

According to the original source books, which villain's first name is...
James
Bill
William Cecil
...and which heroine's last name is...

Liddell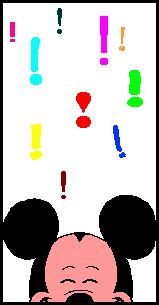 ANSWERS:
Capt. Hook
Sykes
Clayton
Alice

Name 2 characters who say, "you came back" while they are dying.
Name 2 fathers swallowed by a whale while searching for their missing sons.
Name 2 films in which a smashed pumpkin is seen on the road.
Name 3 dogs who break a bed by jumping on it.
Name 3 yodeling cowpokes.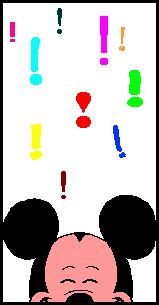 ANSWERS:
Beast & Kerchak
Geppetto & Marlin
Cinderella & The Adventures of Ichabod and Mr. Toad
Brutus in The Ugly Dachshund, Sam in Summer Magic & Stoutheart in Snowball Express
Pecos Bill, Jessie, & Alameda Slim

Which live-action films use the following as their theme songs?
Sweet Surrender
I'd Like to be You For a Day
May the Best Man Win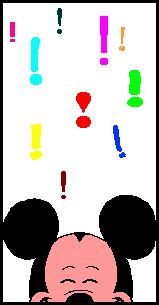 ANSWERS:
The Bears and I
Freaky Friday
Hot Lead and Cold Feet

Name 2 characters who are slowed in mid-air by their umbrella popping open at the wrong time.
Name 2 bears who can't fish.
Name 2 villains who are tangled in a pirate flag.
Name 2 characters who are told to "button your beak."
Name 3 characters who are seen praying in a temple.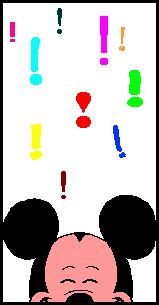 ANSWERS:
Jiminy Cricket & John Darling
Kenai & Bongo
Capt. Hook & Mr. Scroop
Nutsy from Robin Hood & Boomer from The Fox and the Hound
Mulan, Fa Zhou, & Hercules

According to movie critic Gene Siskel, a "Monk's Reward" is a scene or bit of dialogue that appears after the credits, so named because it takes the patience of a monk to wait for it. Which films end with these Monk's Rewards?
"Good night, everybody! Wha-ha-ha!"
"Oh, yeah."
"Camera back on me. Uh, camera back on me, please. Anyone? Hello? Hello? Could someone give me a ride home?"
"Ahem. In accordance with all federal and state wildlife regulations, no fish were harmed during the making of this film." "Aah! Aah! Aah-aa-ah! He's gonna eat me! Aah! Aah! Aah!" "Uh...cut! Cut!" "Aah! Help me! Help me! Help me!" "Ooh!" *Buuurrp*
"And now an exclusive sneak peek of Frozen 2. Click here. Never gonna give you up, never gonna let you down never gonna run around and desert you. Never gonna make you cry, never gonna say good-bye, Never gonna tell a lie and hurt you. Uh-oh! Why would I? I like you! You guys still sticking around? All right, well, welcome to stay. Not really any more surprises. But, you know, good luck getting that song out of your head, it's a real earwig. Anyway, what else? Uh.."
"Whadda ya say? It's happy ending time. Everybody's got a little taste of somethin' but me. I got nothin'. I'm here with nothin'. Anybody listenin'? It's like I'm--What am I, an echo or something? Hello? Hello? Am I talking to, what? Hyperspace? Hello, it's me. Nobody listens."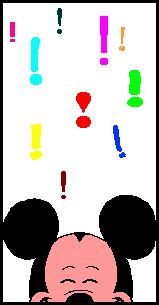 ANSWERS:
The Hunchback of Notre Dame
The Aristocats
Fantasia/2000
Brother Bear
Ralph Breaks the Internet
Hercules

Name 2 princesses with tattoos.
Name 2 villains with a secret base in a volcanic island.
Name 2 characters who try to kiss an illusion of their love.
Name 2 characters who are served a bacon-and-eggs happy face.
Name 4 characters who use the expression "by thunder."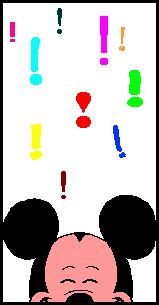 ANSWERS:
Pocahontas & Kida
Capt. Nemo & Syndrome
Ariel & Ichabod Crane
Mulan & Max in A Goofy Movie
John Silver, Jim Hawkins, Preston Whitmore, & Capt. Blackbeard in Blackbeard's Ghost

Who do these names refer to?
Fifi, Lulu, Trixie
Tom, Dick, Stanley
Mildred, Diana, Rachel
Jean-Marie, Anne-Marie, Louise-Marie
Betty Lou, Betty Lou Ann, Betty Ann
Mavis, Sybil, Prudence, Gwendolyn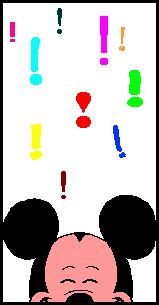 ANSWERS:
Tramp's former girlfriends
Patrons of Gaston's pub
Eric's guesses for Ariel's name
Bells of Notre Dame
Possible names for Darling's baby
Women Bert compares to Mary Poppins (also suggested names for Mrs. Banks in Saving Mr. Banks)

Name 2 films in which the song Yo Ho (A Pirate's Life for Me) is heard.
Name 2 films in which Pete is an evil captain of the guard.
Name 2 characters who wear bunny slippers.
Name 2 characters who stick a finger in their mouths and blow to clear water from their ears.
Name 3 cartoons in which Mickey battles a giant.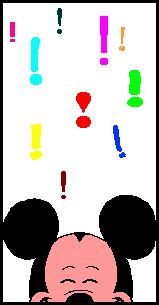 ANSWERS:
Treasure Planet & Pirates of the Caribbean: Curse of the Black Pearl
The Three Musketeers & The Prince and the Pauper
Goofy in A Goofy Movie & Fagin
Dopey & Pecos Bill
The Brave Little Tailor, Giantland, & the Mickey and the Beanstalk segment of Fun and Fancy Free

Who will you find at these addresses?
221½ Baker Street
42 Wallaby Way
17 Cherry Tree Lane
8 Winchfield Road
18 South Main Street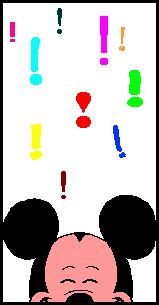 ANSWERS:
Basil
Dentist P. Sherman
The Banks family
Prof. Emilius Brown
Campbell's Livery, according to a billboard in Lady and the Tramp

Name 2 strong men in competition with steam-powered machinery.
Name 2 couples who have 3 daughters who look like their mother and a son who looks like his father.
Name 2 scrawny lions who are younger brothers to a king.
Name 2 villains from animated features who appear on wanted posters.
Name 2 heroes from animated features who appear on wanted posters.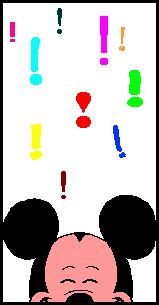 ANSWERS:
Paul Bunyan & John Henry
Lady and Tramp & Dr. Doppler and Capt. Amelia
Scar & Prince John
McLeach & Alameda Slim
Robin Hood & Flynn Rider

Where will you get to if you follow these directions?
Second star to the right and straight on 'til morning
Enter the lair of the Leviathan. There you will find the path to the gateway.
Four steps a-straight and then to the left...
Left of Nebraska, then over a crest
Turn left--right when you get to the big propeller
Down to the ridge, and over the bridge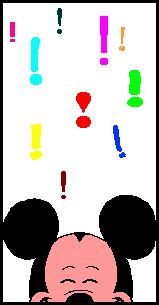 ANSWERS:
Neverland
Atlantis
Jock's bone stash
Patch o' Heaven
A rendezvous with Fagin
Toyland

Name 2 characters who are called a diamond in the rough.
Name 2 gigantic characters named Willie.
Name 2 characters who sit in a chair that pulls itself up to the table.
Name 2 characters who burn a turkey.
Not counting the theme for Lilo & Stitch, the Series, name 3 males who wear grass skirts.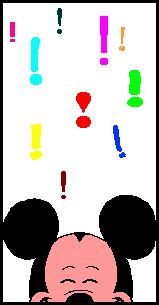 ANSWERS:
Aladdin & Bert
Willie the Giant & Willie the Whale
Merlin & Belle
Annabelle Andrews (as Ellen) from Freaky Friday & Scott Calvin from The Santa Clause
Baloo, Stitch, & Timon

Name the characters who were called by the following wrong names:
Prince Abooboo
Mr. Lightsnack
Miss Flangerhanger
Fabio
Feeble
O'Grady
Marvin
Fieldbridge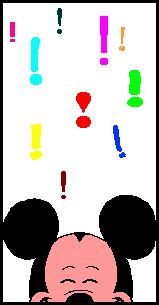 ANSWERS:
Aladdin as Prince Ali
Buzz Lightyear
Olivia Flaversham
Nemo
Phoebus
O'Malley
Merlin
Mansfield from Hot Lead and Cold Feet

Name 3 characters with flaming heads.
Name 2 characters with identical triplet nephews.
Name 2 characters who raise their ears like a hat.
Name 3 women who look with dismay at the reflection of their hips.
Name 3 villains who want to marry the leading lady.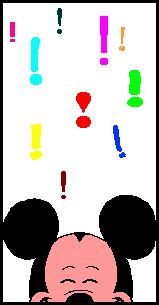 ANSWERS:
Lumiere, Anger, & Hades
Donald Duck & Alameda Slim
The Cheshire Cat & Mickey Mouse in Klondike Kid
Tinker Bell, Elastigirl, and Mother Robinson in The Swiss Family Robinsons
Gaston, Jafar, & Barnaby in Babes in Toyland

Give the title of the film in which Tommy Kirk played each of the following characters
Merlin Jones
Ernst Robinson
Wilby Daniels
Travis Coates
Biff Hawk
Grumio
Elliott Willard
Walter Talbot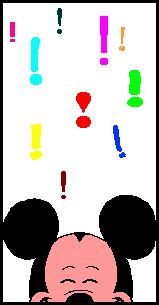 ANSWERS:
The Misadventures of Merlin Jones & The Monkey's Uncle
The Swiss Family Robinson
The Shaggy Dog
Old Yeller
The Absent-Minded Professor
& Son of Flubber
Babes in Toyland
Bon Voyage
Moon Pilot

Name 2 princesses who avoid a forced wedding by the changing of a law.
Name 2 characters who float in a bottle like a boat.
Name 2 characters who end a feud with their fiancée by carrying her off before a crowd of onlookers.
Name 3 characters who bark by saying the word "bark."
Name 4 animated characters with a prosthetic leg.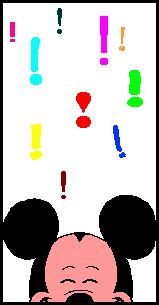 ANSWERS:
Mia & Jasmine
Alice & Jiminy Cricket
Angier Duke in The Happiest Millionaire & Joe Carder in The One and Only, Genuine, Original Family Band
Stitch, Slinky Dog, & Georgette
Fidget, John Silver, Lucky Jack, & Peg-Leg Pete

Name the final title for each of these films.
Basil of Baker Street
Bears
Concert Feature
King of the Jungle
Let's Get Together
Sweating Bullets
Kingdom in the Sun
Two Fabulous Characters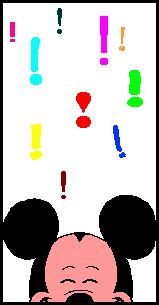 ANSWERS:
The Great Mouse Detective
Brother Bear
Fantasia
The Lion King
The Parent Trap
Home on the Range
The Emperor's New Groove
The Adventures of Ichabod and Mr. Toad